---
---
Design an individual menu
---
Translated into 10 languages
---
Integrated ordering system
---
---
Integrated guest registration
---
Simply integrate it into your website
---
---
---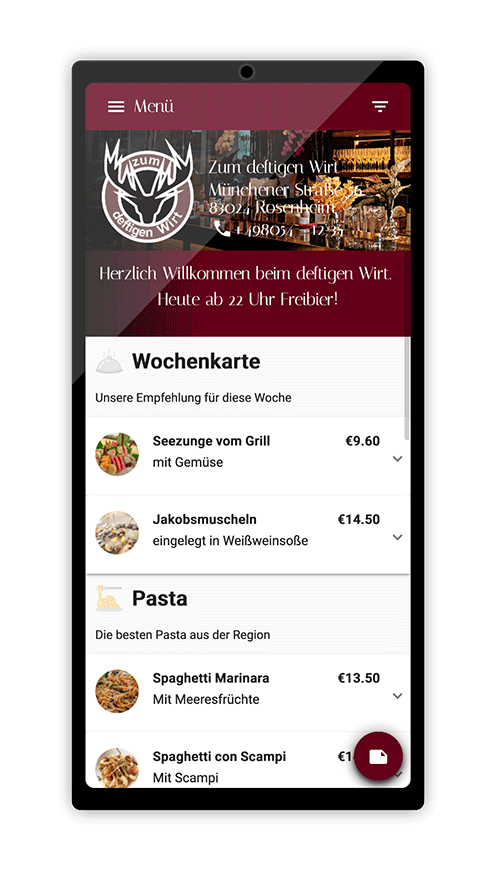 ---
---
The Yamnam portal supports you in creating your online menu. You can create dishes and drinks. If necessary, you can add these pictures.

With your individual Yamnam QR code, your guests can access the current menu.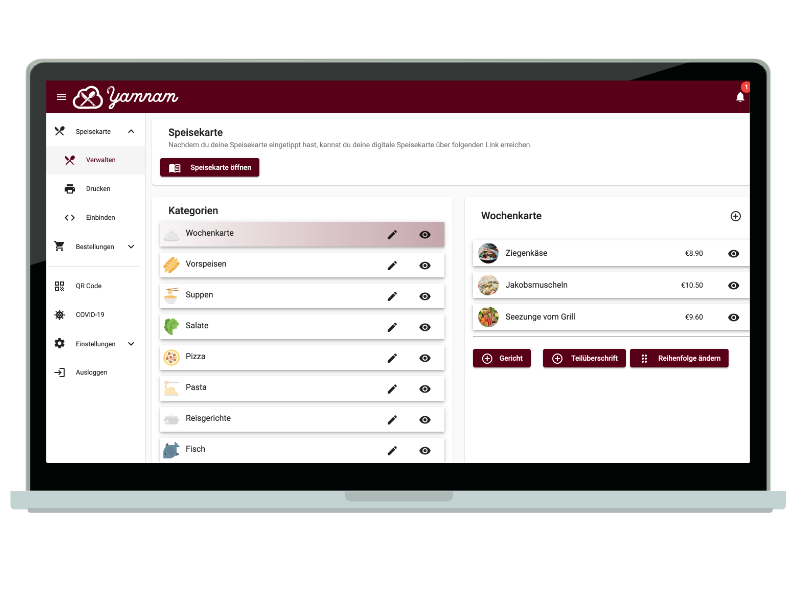 ---
Why you should use Yamnam
---
You no longer need an agency that designs and translates your menu. You can also make any changes yourself.
No staff is required for the menu, as the customer can open it at any time on the smartphone.
Your customers can access your current menu with their own smartphone via QR code.
---
You can adjust your menu at any time. Hide dishes with one click or adjust prices.
Customers use their own devices to look at your menu.
6. Environmentally friendly
Do your part to reduce CO2 by digitizing your menu.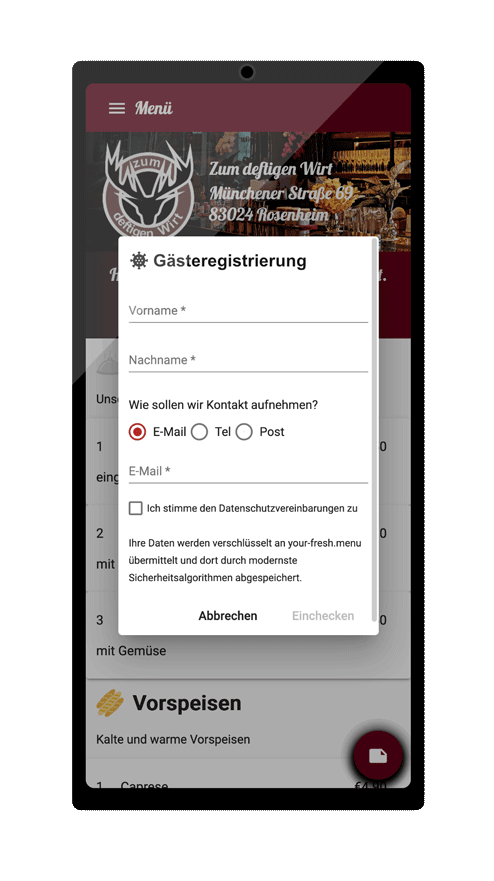 ---
We support you in this challenge
Activate guest registration with one click.

The registration form appears as soon as your guests open the menu.

The data are encrypted.

You can export the data if necessary.
---
Check out our demo menu by scanning the QR code.
Alternatively, you can use the menu here call.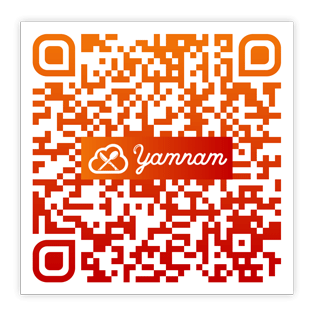 ---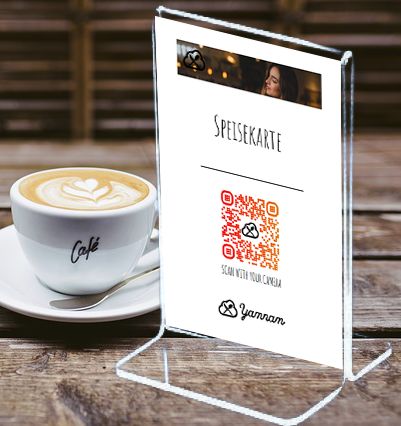 ---
---
---
Allergens according to EU regulation
---
---
---
---
---
€ 12.99 / month - € 129.99 / year
Translate all your dishes into the following languages:

English, Italian, Spanish, French, German, Croatian, Polish, Greek, Czech, Russian
Print out your menu in these languages

If you are not satisfied with a translation, you can adjust it yourself
The "Multilingual" package has everything that Basic contains
---
---
---
---
Your menu in 10 languages
---
With the Yamnam "Multilingual" package you can have your menu in 10 different languages ( ) translated and make it available to your guests. The translation is carried out using the latest machine learning technologies.

If you are not satisfied with a translation, you can adjust it yourself. These will be shown to your guests immediately.

An artificial intelligence recognizes the language of the guests and opens the menu in their language.

See our video. Click on the "Play Button" in the lower left corner.
---
---
We are happy to answer your questions

---
What exactly is Yamnam?
Yamnam is a menu that you can create online for your guests to view online. Yamnam is easy to use. You have to register and you can start creating the menu immediately. You can also integrate your online menu into your existing website, print out a QR code or pass the link directly on to your guests.
---
---
Your individual QR code
Modern smartphones can read a QR code with the camera. We encode the link to your menu in a QR code. After you have printed the QR code, your guests can access the online menu by scanning the QR code.
---
---
How can I use Yamnam?
You don't need your own website to use Yamnam. In addition, we offer you the option of storing your contact details. Your contact details will be displayed in the menu. Your potential guests can contact you then.
---
---
Can I integrate Yamnam into my existing website?
The integration into your website is possible with Yamnam. To do this, you have to include the link we generated on your website.
---
---
---
Our team will be happy to answer any questions you may have about Yamnam.
---
---